West Lothian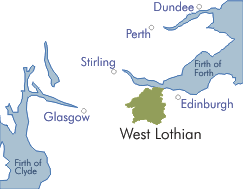 Between the glamour of Glasgow and the elegance of Edinburgh lies West Lothian - an area with a fascinating history, blessed with a diverse landscape of broad valleys, wild uplands and tranquil green spaces.
West Lothian also offers a host of superb shopping, dining and leisure facilities, and a great deal more to delight the visitor.
Whether you're visiting for the day, passing through on holiday, or looking for a base to explore the capital, you're always welcome in West Lothian.
West Lothian is a great place to live, work and do business.