School Visit
Linlithgow Academy Educational Exchange visit to Grapevine
Ten Pupils and two staff from Linlithgow Academy visited Grapevine Texas as part of an ongoing series of educational exchanges. They were the guests of Colleyville Heritage High School and were home hosted.
On arrival they enjoyed a reception, organised by the City of Grapevine, and introductions to host families were made.
The Linlithgow Academy Delegation outside the Grapevine Convention and Visitors Bureau (CVB)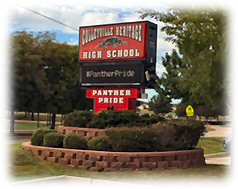 During the visit they boarded the train to Fort Worth Stockyards where they enjoyed the cattle drive and visited the shops to buy souvenirs. Staff attended an in-service day at Colleyville High School. After a welcome breakfast at Colleyville High School, pupils and staff spent a day in school shadowing the pupils/staff they were staying with. They toured Grapevine, spent time at Great Wolf Lodge waterpark and visited the Aircrew Memorial, Sealife Aquarium and Legoland Discovery Centre. An afternoon was spent at the Rain Forest Café, followed by some retail therapy at Grapevine Mills shopping mall. Time was spent at Grapevine Middle School STEM programme (STEM = Science • Technology • Engineering • Math) and at Colleyville High School shadowing pupils/staff, followed by an evening at the Colleyville High School Football Game.
After meeting with host families at the Grapevine Convention and Visitor Bureau to say goodbye they departed from DFW Airport to return home.
The trip was a great success and was full of exciting visits and educational experiences. The Grapevine people and students made us all feel extremely welcome and could not have been kinder. A special thank you should be made to the host families for allowing our students and staff the opportunity to have this experience.