What its all about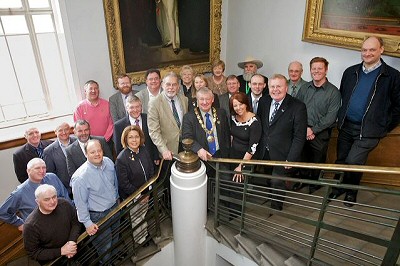 The West Lothian Grapevine Twinning Association was established in 2008 to foster friendship, hospitality and understanding between the inhabitants of West Lothian in Scotland and the City of Grapevine in Texas, USA.
Through communication and exchange visits, it aims to bring about a sharing between the two communities of knowledge and experience in the areas of history, heritage, culture, the arts, sport, commerce, education, science and technology. <More>
What's here?
This website aims to give up to date information on what has been happening from the West Lothian viewpoint. It also links to Grapevine websites to give a USA based perspective. We hope you find it useful and encourage comments (praise, criticism or suggestions for improvement) which should be e-mailed to mail@westlothiangrapevine.co.uk.
AGM - 30 June 2013
The sixth Annual General Meeting of the West Lothian grapevine twinning Association will be held in the Burns Suite at West Lothian College, Livingston on 30 May 2013 at 6:00pm. Anyone interested is welcome to attend. <Notice>
June 2013 - Delegations from Grapevine will visit West Lothian
Six young golfers from Grapevine, along with their coach and some parents, will visit West Lothian from 11 June to defend the Gallagher Trophy, which they won in Grapevine in 2012, in a match against young West lothian golfers.
A group of visiting school kids from Grapevine will be hosted by Linlithgow Academy pupils, staff and parents in June 2013.
A delegation of officials, councillors and wine pourers from Grapevine will visit West Lothian from Saturday 15th June until Saturday 22 June. Most of the delegation will be home hosted and the Association are always looking for people who can help host our guests, particularly those who can accommodate one or two guests in their home for a week.
March 2013 - Fundraising Dinner at West Lothian College
A very successful dinner was held on 22 March 2013 at West Lothian College to help raise funds for the forthcoming visits from Grapevine. Students, supported by West Lothian College staff, prepared and served and excellent meal and staffed the bar. Musical entertainment was provided by pupils from Linlithgow Academy. There was a raffle and an auction which helped raise the total earnings to over £2,000.
September 2012 - West Lothian Delegation visit Grapevine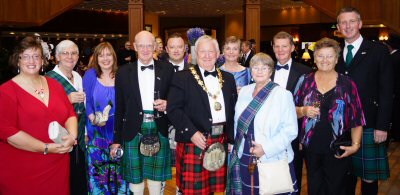 A delegation of 21 representatives from West Lothian visited Grapevine during September 2012. The delegation included Provost Tom Kerr, three West lothian Council officers, a team of six young golfers and their coach - who will defend the Gallagher Trophy against a young golfing team from Grapevine - five young musicians with their instructor and a piper and three members of the West lothian Grapevine Twinning Association.
The delegation were well looked after in Grapevine and enjoyed visits to civic facilities and participation in the annual Grapefest (See www.grapevinetexasusa.com/grapefest for more details of Grapefest). The visit co-incided with a visit from Parras de la Fuente in Mexico, which is another of Grapevine's sister cities (as is Krems in Austria).
Six young golfers from West Lothian travelled to Grapevine with their coach to defend the Gallagher Trophy against a team of six Grapevine golfers. They were not successful but thoroughly enjoyed the experience and made lasting friendships.
AGM - 6 June 2012
The fifth Annual General Meeting was held at Almond Valley Heritage Centre on 6 June 2012. <Draft Minutes>
Find out About Grapevine
The City of Grapevine is located between Dallas and Fort Worth in the heart of Texas, USA and is the location of the Dallas/Fort Worth Airport. As its name suggests, it is in the centre of a grape producing area and the highlight of their year is the GrapeFest wine festival in the autumn. <More>
More about West Lothian
West Lothian is situated in the central lowlands of Scotland, between the cities of Edinburgh and Glasgow. It is an area rich in history and heritage that has a growing economy. <More>
Constitution, Officers and Committee
The West Lothian/Grapevine Twinning Association has now been established and its Constitution agreed. Officers and committee members are appointed each year at the AGM. <More>
Archive